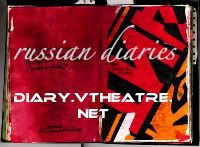 Свежие, и не очень, новости
Я боюсь новостей. И не жду ничего хорошего. Все время надо догонять? Никогда так не чувствовал. Догонять кого и что?
А вот, все бегут...
Потерял чувство, что я бегу впереди.
Потерялся.
Возможно это произошло давно. Потерял веру в себя?
И это.
Потерял чувство, что знаю будущее.
Оглядываюсь. Плохо.
...
Так что сдурела Россия не одна.
Сдурел и я.
И весь мир туда же.
Поэтому заметить это некому.
При таком слабоумии и цензуры не надо.
Поэтому новостей много.
Если в сказках царевич растет не по дня, а по часам, то разлагается он действительно по часам.
Откуда слабоумие?
Калькуляторов много развелось.
Я не дурак, пусть трактор работает?
Машины теперь работают, а отдыхают дураки.
А в Китае?
Там они вместе работают.
Где ты, Швейк?
...
On this page :
Theatre
Literature
Film
and society (just a bit)
С картинками!
Солженицын -- и что с ним стало после возвращения.
Тарковский (кино) -- и что с ним стало после смерти.
А Чехов и идейные хулиганы зачем?
А Мейерхольд?
... Любимов?
Это театр.
Можно начинать?
А занавеса больше нет, все давно уже началось.
...
Is it possible to have an end without a beginning?
2009-2010 :
join us!
anatoly.et
Africa!
...
---